Your Girlfriend is Lazy if She Stays in Bed Till 8am When She Comes to Spend the Weekend
A Twitter user recently caused a huge stir online after he shared an hot take addressed to men who invite their girlfriends over to spend the night.
According to John Doe, if a man invites a lady over and she stays in bed till 8am instead of waking up to do menial chores around the house or cook, then she's either lazy or doesn't like the man enough.
He tweeted,
"If your girlfriend comes to spend the weekend with you, and she stays in bed till 8am, it just might be a sign that she's lazy or doesn't really rate you.
Except she's sick.
You'll understand this tweet when you get married & start having children.
End."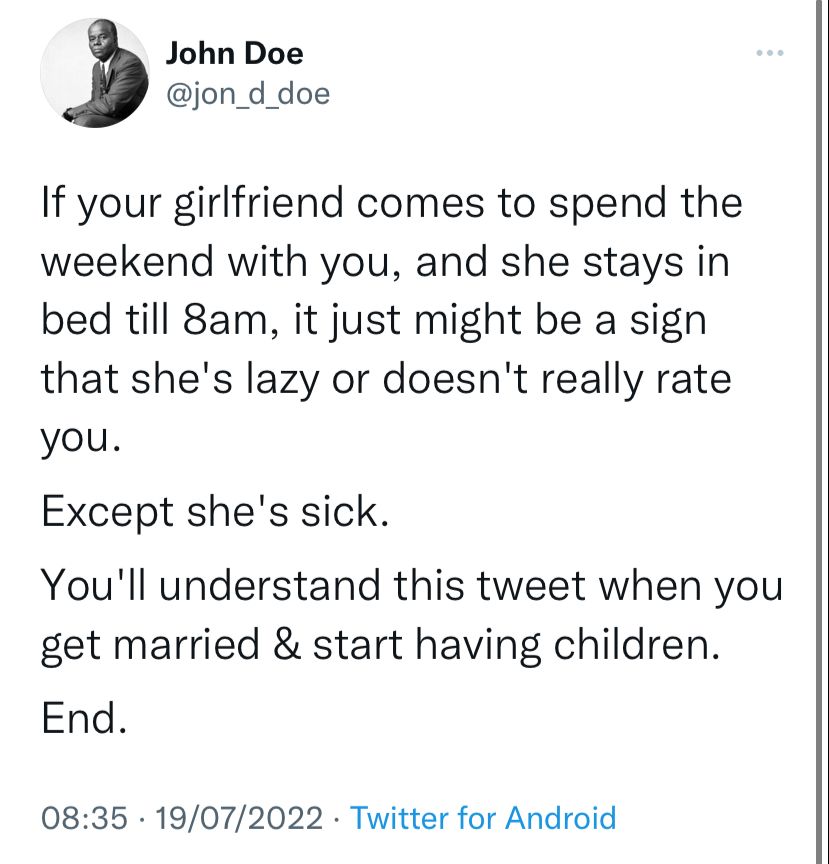 The tweet quickly went viral and became the topic of discussion on Twitter yesterday as people began sharing their  opinions about it.
One of the people who disagreed with the tweet was Twitter influencer, Chemical Brother, and he didn't waste time to carpet John Doe for talking about women like they are slaves or servants.
He also wondered why a man would use a simple 'sleepover' as a marriage audition for his woman.
Read his full submission below,
"You guys treat your partners like war criminals and servants. It's so sad to see. I really dislike this type of thinking so much.
Bro she came to spend the weekend with you. To RELAX! Who am I to dictate when she wakes up? So I should be taking notes of when she wakes up? Isn't that borderline psychotic???
When I sleep late sometimes I even wake up by 11am. I'm one of the most productive people I know. So if I get babe wey dey follow this advice now, she go mark me X come put remark say I dey lazy. Bro this app is insane 
Bro is basically saying every sleepover is marriage audition. 
. I can't believe the things I see on here fr. Please take it easy on your partners. They're human beings. Communicate with them, know your compatibility before even dating. Learn from them and teach them too"