"Together forever" – Nigerian man takes blood oath with his girlfriend (Video)
A Nigerian guy who wishes to spend the rest of his life with his partner has sworn a blood oath with her as a symbol of their unbreakable love.
Chinedu'm Johnny Amandianaeze, a man identified as Chinedu'm Johnny Amandianaeze, surprised social media fans when he posted a photo of a blood love oath he recently took with his cherished fiancée on Facebook.
In some circumstances, a blood oath says that the pair who swears it has sworn to be devoted to each other and never to leave each other until death, and anyone who violates the requirements may be held responsible.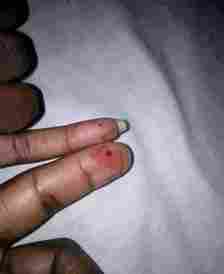 Chinedu'm, excited over the oath of commitment, shared a photo of blood coming out of their fingers.