Stop shaving the hair down there — Relationship coach Blessing Okoro advises ladies
Popular Nigerian relationship and sex expert, Blessing Okoro has advised ladies to reduce the way they regularly shave their pubic hair.
According to the socialite, most ladies tend to rip off the hair in the pubic area anytime they want to go see a man and some ladies prefer to wax it..she however stated that this is not a healthy practice.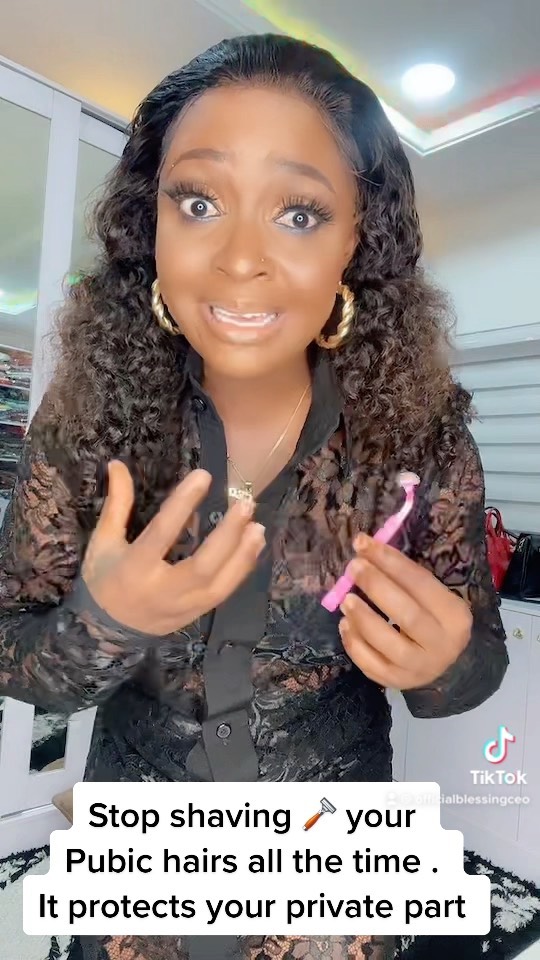 Holding a shaving stick, she said ;
Ladies, can you avoid shaving stick, leave the hair in your pubic area sometimes.
It helps prevent bacteria and infection.
Stop shaving your pubic hair all the time, it protects your private part.
You know our bodies are very open, that hair in your pubic hair is actually protecting something.
It's not for fancy.
Don't shave all the time, rather trim it
See video below;
Some comments that trailed the post;
uzoogah wrote;
In Nigerian heat ? This means constant visits to the bathroom to cleanse with water or wipes from the fluids around the area. Gawd help those who don't even wash properly after a No 1 or No 2
girlcherry2022 wrote ;
Abeg which guy go gree put mouth for toto way dem no shave "hmmmm" me way like to collect head pass sex how I won do.
2nitdontee wrote;
Some no go fit maintain d hair blessing, no be to leave am be d problem na to keep am neat, scrubbing it while bathing takes time but clean shave Dey easier to wash.
My observation sha 
Make them shave but wear better pants not Gstrings 
 fia fia fia na nke ikpeazua