A new mum got quite emotional as she received a brand new car from her husband as push present.
Her husband had gotten her a brand new Toyota Venza and employed the service of a surprise outfit to present it to her to appreciate her for bringing their child into the world.
In the video that was shared online by The Surprise Factory, the woman is being taken outside by her husband as the car arrives at their home, and a saxophonist serenaded the atmosphere with a beautiful tune.
Taken aback by the gesture, she hugged her husband tightly with tears streaming down her face uncontrollably.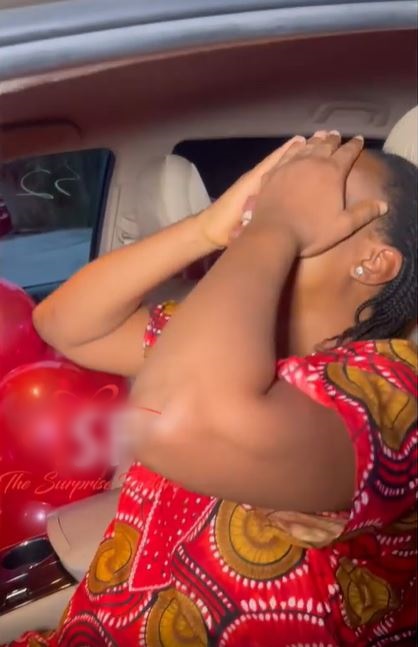 The husband, on the other hand, stated that he purchased the Toyota Venza for her as a push present because she had always wanted one.
Watch the video below,
In other news, a teenage boy has got people talking after he showed off his fiancée, who can pass for his grandmother.
The 19-year-old identified as Giuseppe D'Anna announced his engagement to his 76-year-old girlfriend by sharing a slideshow of stunning moments from their romantic proposal on TikTok.
In the video, the young man is seen proposing to his girlfriend while kneeling on his right knee in front of her. He's also seen kissing his elderly partner passionately.
Many social media users criticized the video, which has been viewed more than 138,500 times on the video sharing platform, because of the difference in their ages.
The clip was shared with the caption, "La nostra promessa." In English, this translates to "our promise."