Huddah Monroe Shares Her Experience With Adult Toys as she Advises Women Against Them
Popular Kenyan socialite and entrepreneur, Huddah Monroe, has advised women against the use of adult toys.
The Big Brother Africa star gave this advice via her Instagram stories while she shared her experience with using them.
According to her, she developed a loathing for men after the few times she tried using adult toys, and it became difficult for a guy to please her sexually.
She said the toys made her lose all desire for men, and it only got better when she stopped and got rid of the toys.
"I don't masturbate I tried few times and trust me. I hated men! I lost all my desire for men. My man I couldn't make me cum unless he fks me for 3hrs. So I stopped threw all toys and started using my fingers. He just needs to rub his d*k on me, And I'm like a waterfall now, don't play with batteries". She wrote.
See her post below,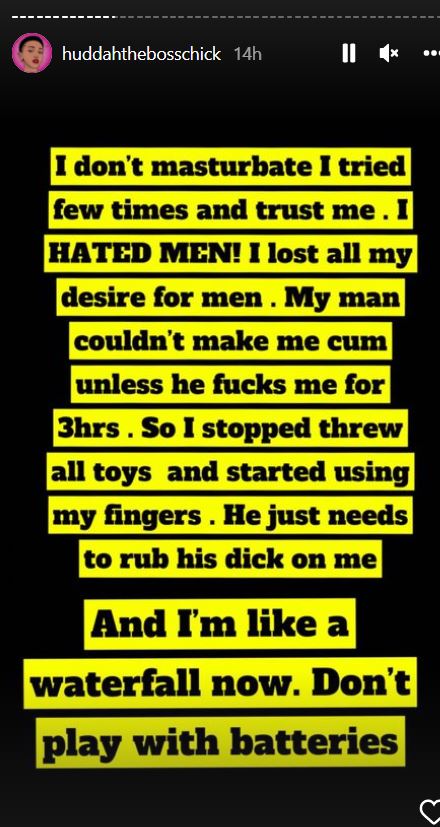 In other news, Huddah Monroe has opined that dating a black man takes a lot of hard work.
Speaking from her experience dating men of different nationalities, the Big Brother Africa star said being in a relationship with a black man is a lot harder than dating men of other ethnicity.
She ascribed this difference to the way black men were raise by their mothers, and advised African women to raise their sons well.
The 30-year-old reality show star wrote on Snapchat,
"I've dated too many nationalities and dating a black man is like going in a maze. It's too much hard work. You can easily go mental! And the reason is their mothers. Y'all women with sons. Do better for the next generation of black men."