"God Dey Enjoy" – Nigerian Man Says as he Shares a Video of His Beautiful Sister Who is a Nun (video)
A Nigerian man has shared a video of his beautiful sister who has dedicated her life to God as a reverend sister.
The man in a video trending online, is seen making a video of his sister who was carrying a baby while they walked along a bush path and bragged about how beautiful and regal she looks.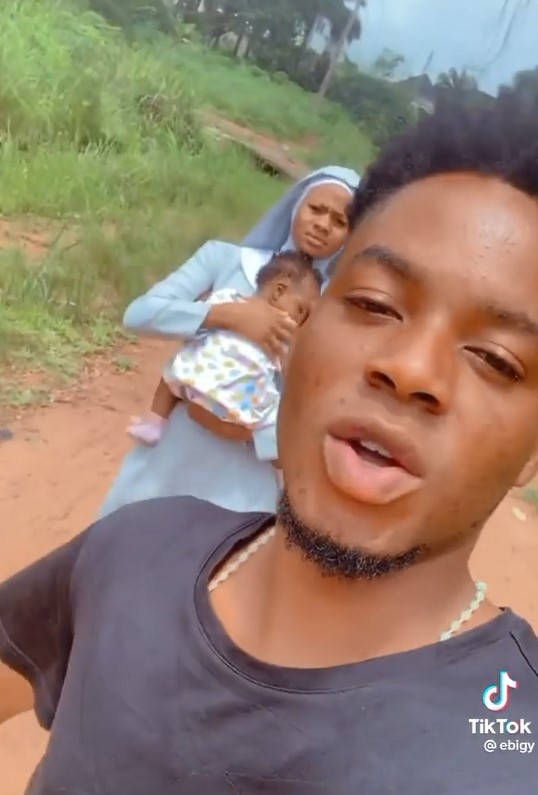 He also disclosed that she is older than him and doesn't like being photographed or filmed but he forcefully made a video of her for the gram.
While gushing over his sister, the man also joked about "God enjoying" because reverend sisters don't get married.
Watch the video below,
The video has gotten people talking online as they share their diverse opinions on his statement.
@carlos_el_primero wrote, "Please they should leave our beloved sisters out of social media bs! It's good fun but he should respect her vocational calling."
@min_umuirem wrote, "Innocent and decent ladies married God. Leaving us with alawa-aghara girls"
@mizkomoraprecious wrote, "Did he just say "God is enjoying" 

This comrade dey ment. Anyway,she's so beautiful"
@limak67 wrote, "Why God no go enjoy, no be him get everything
? Allow God enjoy joor, he is so merciful and bountous!